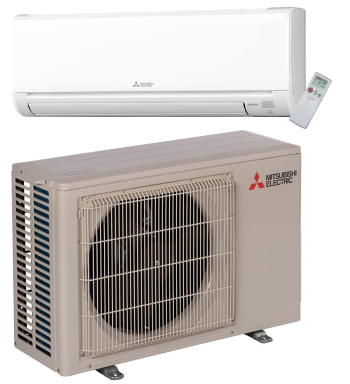 Experience ultimate comfort and efficient cooling with our range of Mitsubishi Mini Splits. Our cutting-edge technology and superior craftsmanship ensure that you enjoy a comfortable living environment all year round. Whether it's a scorching summer or a chilly winter, our mini split systems deliver exceptional performance and energy efficiency.
Key Features:
Precise Temperature Control: Our mini split systems offer precise temperature control, allowing you to customize your comfort settings according to your preferences. With advanced sensors and intelligent algorithms, our units maintain your desired temperature with unmatched accuracy.

Quiet Operation: Say goodbye to noisy air conditioners. Our mini split systems are designed to operate quietly, ensuring a peaceful and undisturbed environment. Whether you're sleeping, working, or relaxing, you'll enjoy uninterrupted serenity.

Energy Efficiency: We understand the importance of energy conservation. Our mini split systems are engineered to deliver exceptional cooling performance while consuming minimal energy. By optimizing energy usage, we help you reduce your carbon footprint and save on utility bills.

Smart Control Options: Take control of your comfort with our smart control options. Our mini split systems can be easily integrated with smart home devices, allowing you to adjust settings remotely using your smartphone or voice commands. Experience convenience like never before.

Sleek and Stylish Design: Our mini split units are designed to enhance the aesthetics of your living space. With sleek profiles and modern finishes, they seamlessly blend into any room decor, adding a touch of sophistication to your home or office.

Multi-Zone Cooling: Customize your comfort in different areas of your home with our multi-zone cooling options. Our mini split systems allow you to create separate temperature zones, ensuring personalized comfort for everyone in your household.

Superior Air Quality: Breathe in fresh and clean air with our advanced filtration systems. Our mini split units are equipped with high-quality filters that capture dust, allergens, and other particles, promoting healthier indoor air quality.
At AC Heating & Cooling, we are committed to delivering exceptional cooling solutions that enhance your comfort and well-being. With our reliable performance, energy efficiency, and innovative features, we are your trusted partner for all your cooling needs.
Contact us today to explore our range of Mitsubishi Mini Splits and find the perfect cooling solution for your home or business.