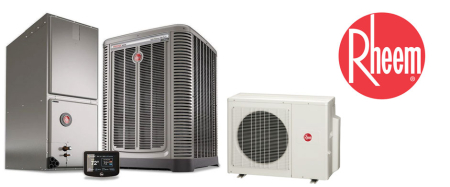 Experience unparalleled comfort and exceptional cooling with Rheem's state-of-the-art air conditioning systems. Whether you need to beat the scorching heat of summer or maintain a comfortable indoor environment throughout the year, Rheem has the perfect solution for you.
Our Commitment to Quality: At Rheem, we prioritize quality and innovation. With over 100 years of industry experience, we have consistently delivered cutting-edge air conditioning technology that exceeds customer expectations. Our commitment to excellence is reflected in every product we offer.
Efficient Cooling Solutions: Rheem air conditioning systems are designed to deliver optimal performance while maximizing energy efficiency. Our advanced technology ensures precise temperature control, allowing you to create the perfect indoor climate while reducing energy consumption. With Rheem, you can enjoy cool and refreshing air without worrying about skyrocketing energy bills.
Superior Comfort: We understand that your comfort is paramount. That's why Rheem air conditioners are engineered to provide quiet operation, allowing you to relax and enjoy the tranquil atmosphere of your home or office. Our systems are equipped with advanced features that promote even air distribution, eliminating hot spots and ensuring consistent comfort in every corner.
Reliability and Durability: Rheem takes pride in manufacturing robust and durable air conditioning systems that withstand the test of time. Our products are built using high-quality materials and undergo rigorous testing to ensure long-lasting performance. With Rheem, you can have peace of mind knowing that your air conditioner is built to endure and provide reliable cooling year after year.
Smart Technology: Stay in control of your indoor climate with Rheem's smart technology integration. Our air conditioning systems can be seamlessly connected to smart thermostats and home automation systems, allowing you to adjust settings and monitor energy usage remotely. Experience the convenience of managing your comfort with just a few taps on your smartphone.
Expert Installation and Support: At Rheem, we believe in providing exceptional customer service from start to finish. Our network of certified installers ensures that your air conditioning system is installed correctly and efficiently. Additionally, our knowledgeable support team is always ready to assist you with any inquiries or concerns you may have.
Choose Rheem for your air conditioning needs and enjoy the perfect balance of comfort, efficiency, and reliability. Beat the heat with confidence and experience the difference of Rheem Air Conditioning. Contact us today to explore our wide range of products and find the ideal solution for your cooling requirements.